Start Date: 30th October 2023
End Date: 24th November 2023
Time: 10am – 12pm (WAT)
Schedule: Monday, Wednesday, Friday
In today's world it has become absolutely paramount for individuals of this day and age to acquire the basic IT skills to proficiently use a computer.
This certificate course is designed to identify, develop and certify individuals with requisite skills and knowledge to utilize a computer in the office, home and school environments. It provides people of all ages with the means to increase their IT skills, prove their expertise, improve their academic performance and advance their professional careers.
Pre-requisite: No knowledge of computer and/or IT is required to attend this program.
Who Should Attend?
Students
Office Assistants
Secretaries
Personal Assistants
Administrative Officers/Managers
Accountants
Administrative Officers/Managers
Marketing/Sales Offices
COURSE OBJECTIVES After the completion of the Digital Literacy course you will be able to do the following: Use the Office Ribbon Handle Text in Microsoft Word Save Your Documents Use Spelling & Grammar Checker Print And Close your Documents Move, Copy And Delete Selected Text Use Character Formatting Options Use Paragraph Formatting Options Use Text Columns Using Tables Create basic worksheets using Microsoft Excel 2016. Perform calculations in an Excel worksheet. Modify an Excel worksheet. Modify the appearance of data within a worksheet. Manage Excel workbooks. Print the content of an Excel worksheet. Learn how to use handy features new in 2016 Identify the basic features and functions of PowerPoint Develop a PowerPoint presentation Perform advanced text editing operations Add graphical elements to your presentation Modify objects in your presentation Add tables to your presentation Add charts to your presentation Prepare to deliver your presentation Use common Internet browsers to access the Internet Open an Email Account   TRAINING FEATURES
Instructor-led Live Sessions
Real-life Case Studies
Assignments
24 x 7 Expert Support
Certification
  FAQs What are the system requirements for this course? Operating System: Windows 7 or later, Mac OS. Processor: Intel Pentium 4 or later. Memory: 2GB minimum but 4GB recommended. Screen resolution: 1280 x 1024 or larger. Application window size: 1024 x 680 or larger. What if I miss a class? You will never miss a lecture at HiiT Online Training! You can choose either of the two options:
View the recorded session of the class available in your LMS.
You can attend the missed session in any other live batch.
Can I attend a demo session before enrollment? We always keep limited number of participants in a live session to maintain the Quality Standards. But, unfortunately participation in a live class without enrolment is not possible. Who are the Instructors? Our Instructors are in-house professionals at least 5 years of relevant experience in various domains. They are subject matter experts and are trained to provide a great learning experience.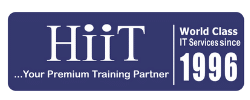 Login
Accessing this course requires a login. Please enter your credentials below!